Meet Renae:
Lead Venue Manager
Tour Manager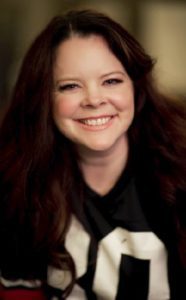 A native to Southern Oregon and rain/snow lover, 2019 marks my first wedding season with the Water Oasis as a Venue Manager.
I like to downhill ski fast, drive fast muscle cars, dance to 80's big-hair-bands, and eat dark chocolate reeeealy slow.
I am very familiar with this popular
and favorite venue, since I have been delivery cakes here since they opened.  I have actively been part of the growing Willamette Valley wedding industry for over 19 years as a professional cake artist and owner of Custom Cakes NW, a board member of Wine Country Wedding Professionals, and part of the venue manager team.
I enjoy making your special day all the sweeter, while seeing local business grow.  
Meet Ranjita:
Lead Venue Manager 
Assitant Business Manager
Communications & Tour Coordinator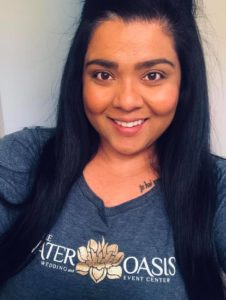 Hi I'm Ranjita – I go by Jita.  I'm 30 years old and moved to Oregon when I was 10 from California.  I fell in love with Oregon's beauty and fresh air!  
I enjoy cleaning my house and organizing. I love to interior decoration and spending time with my husband and 2 pups Nico and pumpkin.  I have my bachelors in psychology.  FUN fact: I got married
at The Water Oasis in 2014. 
I have been at The Water Oasis working for almost 2 years now:  I am a Venue Manger, Tour Manager, and the Communications and Tour Coordinator.   I have also taken on a new role this year, as the Assitant Business Manager.   Even though I have been "officially" working in the wedding industry for 2 years, I have enjoyed learning and being a part of weddings and events for several years (including planning and desinging my own wedding).
I hold Water Oasis very near and dear to my heart.  Ever since me and my husband were married at Water Oasis, I have always wanted to be part of everything and anything there.  Over the years, I have watched Water Oasis grow and become such a wonderful place to hold events and your special day.  I LOVE "LOVE" and watching two people share such a wonderful moment with all their friends and family.  It puts me to tears every time and it reminds what is truly is important in life.   
Water Oasis is truly a magical place and I'm honored to be part of such a wonderful venue!
 Meet Lisa:
Asst. Venue Manager
Meet Melissa:
Venue Manager
 Meet Ryan:
Landscaping Lead
Morning Team event set-up Lead
Meet Mandy:
Janitorial & Cleaning Lead