Meet Renae:
Venue Manager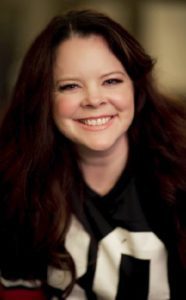 A native to Southern Oregon and rain/snow lover, 2019 marks my first wedding season with the Water Oasis as a Venue Manager.
I like to downhill ski fast, drive fast muscle cars, dance to 80's big-hair-bands, and eat dark chocolate reeeealy slow.
I am very familiar with this popular
and favorite venue, since I have been delivery cakes here since they opened.  I have actively been part of the growing Willamette Valley wedding industry for over 19 years as a professional cake artist and owner of Custom Cakes NW, a board member of Wine Country Wedding Professionals, and part of the venue manager team.
I enjoy making your special day all the sweeter, while seeing local business grow.  
Meet Ranjita:
Venue Manager & Assitant Business Manager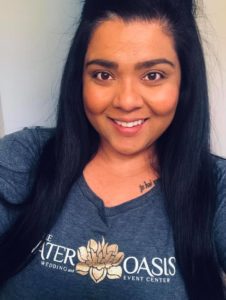 Hi I'm Ranjita – I go by Jita.  I'm 30 years old and moved to Oregon when I was 10 from California.  I fell in love with Oregon's beauty and fresh air!  
I enjoy cleaning my house and organizing. I love to interior decoration and spending time with my husband and 2 pups Nico and pumpkin.  I have my bachelors in psychology.  FUN fact: I got married
at The Water Oasis in 2014. 
I have been at The Water Oasis working for almost 2 years now:  I am a Venue Manger and offer Day of Coordination "in-house" to all Oasis Clients.  I have also taken on a new role this year, as the Assitant Business Manager.   Even though I have been "officially" working in the wedding industry for 2 years, I have enjoyed learning and being a part of weddings and events for several years (including planning and desinging my own wedding).
I hold Water Oasis very near and dear to my heart.  Ever since me and my husband were married at Water Oasis, I have always wanted to be part of everything and anything there.  Over the years, I have watched Water Oasis grow and become such a wonderful place to hold events and your special day.  I LOVE "LOVE" and watching two people share such a wonderful moment with all their friends and family.  It puts me to tears every time and it reminds what is truly is important in life.   
Water Oasis is truly a magical place and I'm honored to be part of such a wonderful venue!
 Meet Valerie:
Lead Venue Manager & Facility Manager
I was born & raised in Oregon.  I enjoy spending time with my Grandchildren, being outdoors, going out on our boat. Plus, love trying new restaurants and wineries.   I have parachuted, Zip Lined, and can out ride my friends and family on Amusement rides.
I have been with The Water Oasis over 3 Years now!  I am a Lead Venue Manager and also help in training any of our new staff.  I also have taken on a new role this year as the Facilty Manager.  I have worked in the Wine & Wedding Industry for 17 years creating events.  
I love meeting new people and being able to share in a life changing moment that is created out of Love. Plus, it is nice to be able to come to work every day and enjoy the Team that I work with at the venue.
Meet Deni:
Lead Venue Manager & Marketing Director
I was raised Kodiak Alaska, where fishing is a passion.  I love cooking, entertaning for family and friends, gardening , being active,  giving back to the community, and checking out new experiences in the wine industry.
I have worked with the Water Oasis for over 4 years now.  I am a lead Venue Manager as well as the Director of Marketing.  I  hold an extensive background of marketing and love to use and apply this knowledge in the wedding & event industry.  My strong leadership and outstanding customer service skills – make me a great Venue Manager for your event. 
I also have over a decade of planning and coordinating experience, which allowed me to start my own company: Inspiration with Style.  I pride myself on being detailed oriented, and am passionate about building relationships with my clients and vendors.  I work hard to ensure you have a wonderful and stress-free event.
 Meet Krista:
Communications & Tour Coordinator 
I was born and raised in Newberg, Oregon and lived there up until about 6 years ago, when I moved to Mcminnville.  I love the Willamette Valley and would not want to call anywhere else home!
I enjoy spending time with my friends, my family, and my two dogs – Finnlee and Oliver.  I am a total foody, I love food!  I love to explore new places that I have never been before and to try new things.  I am obsessed with Poodles!!!!   I have always been facinated by them and every dog that I have ever owned has been a poodle mix. 🙂
I have been with The Water Oasis going on almost 3 years now!   I used to be the Morning Team Lead for event and wedding set up, but have now transitioned into training as a Venue Manager for the 2019 season.  I also run the communications for the business as well as schedule all the tours.  I answer the main office line, answer all emails inquiring about price and date options.   
I love seeing each couples personalities shine through on their special day.  I love working with clients, getting to know them and helping to make their visions and dreams become a reality!