Meet Renae:
Venue Manager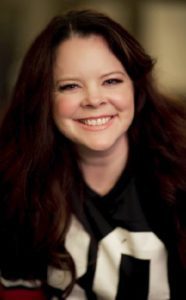 A native to Southern Oregon and rain/snow lover, 2019 marks my first wedding season with the Water Oasis as a Venue Manager.
I like to downhill ski fast, drive fast muscle cars, dance to 80's big-hair-bands, and eat dark chocolate reeeealy slow.
I am very familiar with this popular
and favorite venue, since I have been delivery cakes here since they opened.  I have actively been part of the growing Willamette Valley wedding industry for over 19 years as a professional cake artist and owner of Custom Cakes NW, a board member of Wine Country Wedding Professionals, and part of the venue manager team.
I enjoy making your special day all the sweeter, while seeing local business grow.  
Meet Ranjita:
Venue Manager & Assitant Business Manager
Communications & Tour Coordinator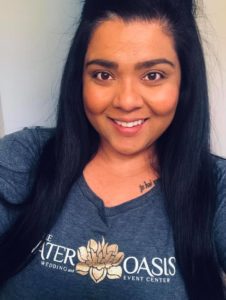 Hi I'm Ranjita – I go by Jita.  I'm 30 years old and moved to Oregon when I was 10 from California.  I fell in love with Oregon's beauty and fresh air!  
I enjoy cleaning my house and organizing. I love to interior decoration and spending time with my husband and 2 pups Nico and pumpkin.  I have my bachelors in psychology.  FUN fact: I got married
at The Water Oasis in 2014. 
I have been at The Water Oasis working for almost 2 years now:  I am a Venue Manger, Tour Manager, and the Communications and Tour Coordinator.   I have also taken on a new role this year, as the Assitant Business Manager.   Even though I have been "officially" working in the wedding industry for 2 years, I have enjoyed learning and being a part of weddings and events for several years (including planning and desinging my own wedding).
I hold Water Oasis very near and dear to my heart.  Ever since me and my husband were married at Water Oasis, I have always wanted to be part of everything and anything there.  Over the years, I have watched Water Oasis grow and become such a wonderful place to hold events and your special day.  I LOVE "LOVE" and watching two people share such a wonderful moment with all their friends and family.  It puts me to tears every time and it reminds what is truly is important in life.   
Water Oasis is truly a magical place and I'm honored to be part of such a wonderful venue!
 Meet Valerie:
Lead Venue Manager & Facility Manager
Vendor Consultant.  Tour Manager.
I was born & raised in Oregon.  I enjoy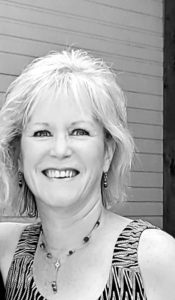 spending time with my Grandchildren, being outdoors, going out on our boat. Plus, love trying new restaurants and wineries.   I have parachuted, Zip Lined, and can out ride my friends and family on Amusement rides.
I have been with The Water Oasis over 3 Years now!  I am a Lead Venue Manager and also help in training any of our new staff.  I also have taken on a new role this year as the Facilty Manager.  I have worked in the Wine & Wedding Industry for 17 years creating events.  
I love meeting new people and being able to share in a life changing moment that is created out of Love. Plus, it is nice to be able to come to work every day and enjoy the Team that I work with at the venue.
Meet Michelle:
Venue Manager
I am a 38-year-old Oregon Native, born and raised in the beautiful Rose City of Portland.  I have 3 amazing children; son Jessey 15; son Ajani 10, and daughter Amya Michelle 5.  Aside from creating beautiful memories at The Water Oasis; I work full-time as a Medical Billing and administrative Professional.  I am really interested in both expressive and performing arts such as painting, music, dance and poetry.  My daughter and I are both currently learning to play the guitar; while she is beginning her journey as a Ballerina; and the boys are learning their instrument of choice and pursuing their own personal interests. Ajani being the keyboard and Martial Arts, and Jessey the Bass, track, football and Band. We are a family of Arts and Crafts!
I also enjoy Cooking, especially Baking, and am currently starting up my own small crafty catering business, Dessert Bars by Jarred Occasions.  I provide scratch-made, southern inspired desserts; treats and dinner entrées.  They are delivered personally to my local community, friends, family and peers to enjoy!  
I have been with The Water Oasis for over 6 months now and I am in love with this Venue! As a parttime venue manager and coordinator; I am honored to be a part of creating breathtaking moments that
will last a lifetime. I am surrounded by serenity and joy each time I come to work, experiencing the views of our gorgeous rolling hills here in the heart of wine country! It is hardly work at all. The best part of working here, is being a part of an amazing team! We truly work together to create The Perfect Day for our clients.
Our leadership is efficient, supportive and have everyone's best interests at heart! We work together to make this moment last forever!