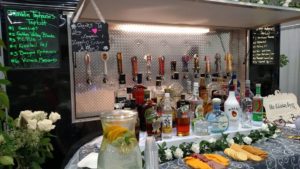 From Our Hearts: The options are endless with the Travelin Taphouse.  It is so fun to have such a great selection served along side great service and additional options other than drinks.  They will hook you up for sure.
How They Stand Out:  We exclusively tailor each event. Offering over 12 customizable taps of Craft's & Ciders, Amazing Spirits Bar, Award-Winning Wines, non alcoholics and food aplenty. It's personal to us, we will work with you to create an exquisite menu exclusively for you, your "Wish List" that fits your taste, budget and style. We offer many items. Gas fireplace, canopies, sound systems, yard games, even a minister to marry you. We are all inclusive- licensed insured OLCC bartenders and Oregon State Food Certified; including all the Liquor liability Insurance so you can relax and enjoy your event. We offer family-friendly or over 21 only.
Piece of Advice:  You can earn FREE BEER! Travelin Taphouse is a full-service mobile Taphouse & Bar like none other. For every referral that is booked with the host name, we like to give a "Thank you Referral Kick Back." Weddings and events can be expensive. We can help! I have had brides pay for their entire beverage catering just from referrals. When a referral comes to us, please make sure the host name that is referring is given to us. 5% of the contracted amount upon booking the event will then be given back to the referring host to say, thank you! 
From Their Hearts:  The grounds are unbelievably beautiful and the staff is impeccable, always attentive to the smallest details. Our business belief is, we treat every customer as if they were our only customer and with first class customer service. Our meticulous attention to exquisite first class customer service sets us apart from the rest. We believe that the Water Oasis has the same business practice as we do. It is an honor to work with the Water Oasis.

What a DEAL!:  Added ad-ons are given free of charge for Water Oasis clients.
Get in Touch:
Call: 971-600-6236,
Write:  Po Box 1102 Dallas, OR.