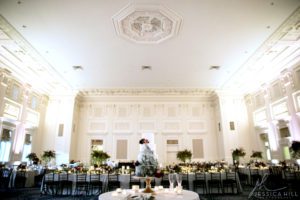 From Our Hearts:  True talent, incredible designs, warm personalities and delicious cake, I guess you really can have it all!  Always professional and always with rave reviews, Dream Cakes will leave your guests smiling.
How They Stand Out:  Dream Cakes is not a high volume production bakery!  There are only two of us and a lot of our time, love and care go into making the wedding cake of your dreams.  We specialize in real-butter buttercream wedding cakes, sugar flowers and perfect monograms.  We try to stay away from fondant. We also have vegan or gluten free options, as well as dessert buffets and party favors.
Piece of Advice:  The two weeks before your wedding can be the most stressful, we recommend deciding what you can early on, ie; cake design and flavor combos. This alleviates making tough decisions while trying to answer other questions from all the other vendors and produces better cake results in the end.
From Their Hearts:  Such a lovely location!
What a Deal!:  We offer a discount on your anniversary cake!  Your one year anniversary should be memorable, not freezer burnt 😉
Get in Touch:
dreamcakespdx@gmail.com